Richard Grieshaber
Really good session with Kirsty this morning, booked in for another session already, my Dog Marley liked her as well.
April 2017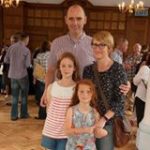 Annie Gray
Great Sports Massage from Kirsty! Highly recommend.
March 2017

Louise Conabeare
4 sessions in and my strength is up and my measurements are down!! Kirsty is fab at keeping you motivated and tailors your workout to suit you - weights and abs circuits are the best and you feel it for days after.
January 2017

Zoe Kelly
I had a fantastic sports massage with Kirsty this morning...great to get all my knots worked on and feeling much better for it...thank you.
November 2016